I must confess that many of the thought I post here come from reflecting on Tara Brach's podcast to which I listen daily. In her most recent podcast [link below], she spoke about this image…
What's Your Buddhist Superpower? – Buddhist Peace Fellowship / Turning Wheel Media.
Tara Brach talked about this image in her recent podcast:
2014-02-19 – Part 2: Heart of Compassion – Most of us consciously value compassion, but move through much of life without access to the full capacity of our heart. This talk explores the self-compassion that is the very grounds of loving our world.

Direct download: 2014-02-19-Heart-of-Compassion-TaraBrach.mp3
My superpower IS kindness, but I don't 'get into the phonebooth' often enough, if you what I mean. I often don't put on my 'kindness costume' when I need it most…
Does that make me a failure? No, I think it puts me on a path. It makes me human. HH the Dalai Lama says:
"I don't know why people like me so much. It must be because I value bodhichitta [the awakened heart/mind]. I can't claim to practice [it], but I value it." We care about the awakened heart because, like a flower in full bloom, it is the full realization of our nature. Feeling loved and loving matters to us beyond all else. We feel most "who we are" when we feel connected to each other and the world around us, when our hearts are open, generous and filled with love. Even when our hearts feel tight or numb, we still care about caring.
Brach, Tara (2004-11-23). Radical Acceptance (p. 222). Random House Publishing Group. Kindle Edition.
How can I, a fellow being who is much less awakened, condemn myself for not practicing?
My takeaway? Get into the phonebooth. Put on lovingkindness. Even when — ESPECIALLY WHEN — our hearts feel tight and numb…
Lately, I have been finding wisdom and refuge in Kristen Neff's book Self-compassion [which I highly recommend!]. Here is a recent passage that resonated with me…
"How people treat you is their karma; how you react is yours." Wayne Dyer
via Today's Quotes: You get treated how you TEACH people to treat you!.
See on Scoop.it – Todd Lohenry's lifestream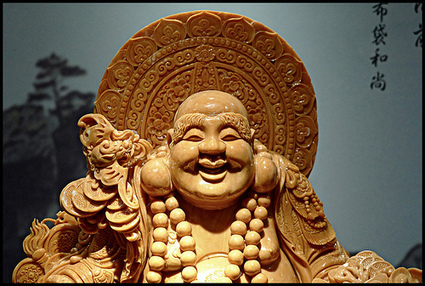 If we can observe and understand how our thoughts are impacting us, we can change who we're being and what we're experiencing in the world.
See on tinybuddha.com
"Let us rise up and be thankful, for if we didn't learn a lot today, at least we learned a little, and if we didn't learn a little, at least we didn't get sick, and if we got sick, at least we didn't die; so, let us all be thankful."  
Buddha. 
via
Buddha on gratitude…….
.
Tiny Buddha: Wisdom Quotes, Letting Go, Letting Happiness In via Tiny Wisdom: The Heart in Our Homes.
Here's a kick in the pants from Kute Blackson…
You are not a victim.

Regardless of what might have happened in your past.

You have a choice in this moment to choose what your experience of yourself and life will be today.

Now.

If you want to be happy, being a victim doesn't serve you in any way.

It takes real courage to forgive and let go. It takes courage to take responsibility for your inner experience, especially when someone has wronged or hurt you.

The degree to which you take responsibility for your inner experience determines the degree of freedom that you will experience in your life.

So how much freedom do you want to experience?

You choose

There are many things you will never be in control of in life. This is a fact.

The weather.
The Traffic.
Other people's opinions of you.
The government.
The media.
Your spouse or lover.
The stock market.

But you have the choice to choose your interpretation of what happens. And to choose again until the choice you choose serves your true happiness.
Go to the source if and read the rest of Kute's post if this resonates with you. Own your own power!
Related articles
I'd like to share part of this post from Alissa Finerman with you…
Starting early in life we learn the power of if … then statements in a very simple and seemingly innocuous way. For example, in math class we use if … then statements to learn logic. If a = b and b = c, then a = c.

The if … then game goes on and on. We play it in every area of our life – relationships, career, healthy living, and finances.

 If I am in a relationship, then I'll be happy.

If I get a new job, then I'll be happy.

If I lose weight, then I'll be happy.

If I make more money, then I'll be happy.

Society and the media influence our mind to think with a set of conditions that help us make sense and draw logical conclusions (this is helpful). But somewhere along the line, we screw up the logic and substitute our own set of conditions that do not follow and, therefore, result in irrational conclusions (this is unhelpful).  It's important to note that happiness doesn't require any if … then conditions. The Dalai Lama believes happiness is a choice.

Often, we create a situation in our mind, such as being happy, and make it dependent on another event. But in reality, this state of well-being is not dependent on any set of conditions other than our own mindset and perspective right now.  Things such as a starting a new relationship, getting promoted, making more money, losing weight do not necessarily equal happiness.  Happiness is available, right here – right now – in this moment, whether you are going through a major life transition or in the greatest relationship of your life. It doesn't depend on anyone but you. By definition, if … then statements take you out of the present moment and steer your focus to the future.
Follow the 'via' link above if you'd like to read the rest…